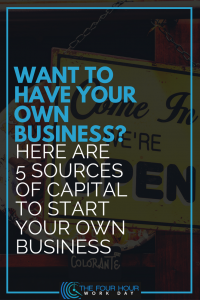 You are passionate, creative, and hardworking. You have the skills, the perfect business idea, the passion. But one thing is missing — you don't capital to fund your business!
Don't let your idea go to waste. Who knows? Your business might be the next big thing!
Looking for money to start a business can be a struggle. This is often one of the reasons potential entrepreneurs give up. But you will not be like them.
Here are 5 tips that will help you raise a capital so that you can finally start your own business.
From Yourself
Yes. You read that right. You might be looking somewhere else but the answer to your financial needs may be from your own pocket.
Savings
Check your bank accounts. Use your savings as a start-up capital. Don't put all your money though. Leave some for your emergency fund.
Investments
Revisit your investment portfolio. Check your mutual funds, your stocks or your bonds. Check their maturity dates or withdraw the interests and gains that you earned from them. Communicate with your financial advisors about your investment status and ask how you can maximize them.
Personal Assets
Do you have something to sell? Sell anything that may help you raise a capital no matter how small it is.
Take a simple inventory of your personal assets and decide which one you can let go of by selling them.
Credit Card
This is high risk. Using credit cards gives a fast and easy way to get money but it comes with high-interest rates and penalties if you fail to pay on your due date.
Make sure that you have set your payment plans and avoid delays when you use this option.
Better if you can find credit card companies that offer 0% interest rate on the 1st year.
Freelance Work
Do some freelance work. This way, you can save up your earnings for your business goals. Choosing this route may take some time before you can raise your target capital but this has a lot of advantages. You won't incur any debts, you develop entrepreneurial skills which you'll need later on anyway, and you can gain a valuable client base which you can tap later on.
Families and Friends
Families and friends can lend you money at a smaller interest rate compared to credit cards or bank loans. Sometimes they may even agree to waive the interest altogether!
But remember, relationships are at stake here so make sure to pay back what is due to them. Make sure they know what kind of business you're going to build. Set the terms straight like the payment period, interest charges, and manner of payment.
Bank Loan
This is the most common way of funding a business.
Note that the bank may ask for a collateral to secure the loan or a guarantor or co-maker. Not to mention they also charge interest rates and fees. Bu sure you take due diligence when shopping around so that you can choose the one with a good deal that suits your budget.
Microloan
Microloans are small loans that are available for those that are unlikely to get approved by the bank. This is way faster than applying for a traditional loan. Channels include non-profit community-based lending organizations, online lenders or peer lending groups. Some even offer training to guide the entrepreneurs during the startup of the business.
Crowdfunding
This is one of the newest ways to raise money using the internet.
How does it work?
By posting your business idea on a crowdfunding platform. You will be able to raise funds from your followers. It can help you get a small amount of money from lots of people in exchange for a bonus that you can offer. Some are fine with free samples of your products, freebies, and other perks.
Popular crowdfunding sites are Kickstarter, Indiegogo, RocketHub, and SeedInvest.
These are just a few options available to raise a capital. Your dream to become a successful entrepreneur not impossible if you learn to take advantage of these resources.
Getting a loan might be intimidating but lots of successful entrepreneurs either have started with it or still even have it. As long as you have a good financial strategy and sound business practices, you'll be able to manage the risks coming from it.
Track All Your Accounts With Personal Capital
Personal Capital
lets you see all of your accounts in one convenient place.  
Sign up now
for free.
The following two tabs change content below.
Joy
Joy Collado is a freelance writer and loves to write about personal finance, self-help, and digital marketing.