Are you born with an eye for arts and hands for crafts?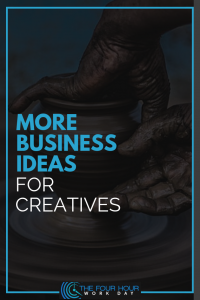 Maybe you've thought of your hobbies as just that – hobbies. But you can make a living from your skills and build a profitable business out of it.
Yes, it's possible to make money with your passion.
I've previously written about business ideas for creatives. And here I'm listing down more business opportunities for creatives like you.

Calligraphy
Create unique and elegant wedding invitations. You can do designs for restaurant menus, business cards, award certificates, personalized greeting cards, thank you cards, stationery, and product labels.
Start by building your portfolio. Take product photos and make sure they look good to attract clients. Join exhibits and partner with wedding organizers, event coordinators, printing shops, stationery shops, associations and clubs around your community.
Pottery
Pottery is a classic always has a steady market.
That mug, bowl or vase with intricate patterns and detailed designs are perfect gift ideas.
House decoration is never complete without pottery or ceramics. Artistic pottery brings a unique texture, vibes, and color to a room.
It would help if you have your own studio where people can walk in to look at your own. You can also teach pottery workshops as part of your services.
Despite being an old art, keep on introducing it, including its history and evolution, to the younger generation.
Painting
There are various types of painting and to mention a few are oil, watercolor, acrylic and pastel painting. For the initial phase, better to select a particular type of painting so you can master and focus on it. Eventually, you can expand to other forms as you establish your brand.
Competition can be tough but there is still a huge market of art lovers out there. Reach your local and global audiences by building a network of organizers to allow your paintings to be showcased in their art galleries. Put up a website and sell your paintings over the internet. A good website adds credibility and integrity especially for start-up artists like you.
But do you know that you can add twists to your paintings? Instead of canvas, why not paint on accessories such as bags, hats, scarves and even shirts and dresses? It looks elegant, modern and very trendy.
Music
Music is a very huge and competitive industry. As a musician, you can be an educator, a songwriter, a producer, a musical director or a freelance performer.
Do you play a musical instrument? Conduct classes to musically inclined students.
You may also like to be a producer and establish a record label. As a music lover, you'll be handling talents who deserve to be heard throughout the world and you'll be making sure to deliver only the best and quality music.
Woodwork
Unique woodworks are still on demand. If you can produce high quality and unique pieces, there is a hungry market that's waiting for you.
You can start from little handcrafted pieces like toys, personalized items like wall clocks, home decorations, or souvenirs. These are also great as gift ideas!
Fashion Stylist/Couture
Do you love to sew? Perhaps you have a talent in fashion design?
What types of clothing do you enjoy making?
If you already enjoy creating gowns for yourself or your family, then you might want to make this your business.
Or maybe you like styling your friends and they often come to you for advice on what to wear for a certain event.
You can become a freelance stylist and help people dress to impress.
Soapmaking
There is a demand for artisan soaps. Not only are artisan soaps good for the skin, but they also are great gift ideas.
Opportunities are endless for creative people. To survive in the business industry, make sure you have a concrete business plan and objective. Continue loving what you do and keep on improving your skills and talents through practice and proper training.
Track All Your Accounts With Personal Capital
Personal Capital
lets you see all of your accounts in one convenient place.  
Sign up now
for free.
The following two tabs change content below.
Joy
Joy Collado is a freelance writer and loves to write about personal finance, self-help, and digital marketing.