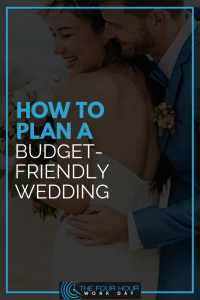 Most little girls often dream of a grand, fairytale wedding.
Lovely flowers, enormous chandeliers, flashing lights, luxurious dinner, numerous guests, classical and jazz music, long and white princess-like wedding gown, and 10-feet tall wedding cake.
There's nothing wrong with that. But as we grow older, we slowly realize a grand wedding isn't everyone. And there's nothing wrong with that, either!
But you can still achieve a dream-like wedding without hurting your budget. Sounds too good to be true? If you can put in a little creativity and resourcefulness, yes it is possible!
So how do you plan a beautiful wedding that you'll remember for a lifetime? Here are some tips.
Limit your guests
Yes. You don't have to invite everyone.
Sure, you want to invite everyone but you know you can't. Your budget will depend on the number of your visitors. Smaller guests mean a smaller reception venue and smaller cost for food and drinks.
Let people know that you are planning to have an intimate wedding and is working on a limited budget to avoid expectations. Invite only close family and friends.
The event will be more enjoyable if you invite only the people who are close and important to both of you as a couple. There's less pressure. You'll be able to bond with your guests more deeply. You'll feel more love and sincerity in the air.
So be firm. Also, make sure also to ask for an RSVP.
Plan your own wedding
Hiring a wedding coordinator to plan your wedding is convenient but it costs a lot of money.
It is actually more fun to plan your own wedding. This means more bonding time with your partner, too. Knowing that both of you are hands-on will make your wedding more special. And because you take care of every detail, you have 100% control of your budget.
If you are on your own, your creativity and resourcefulness will naturally come out.
Call a friend
What if you're not creative enough to pull off a wedding? Well, ask for help from friends! Instead of wedding gifts, ask them for help in arranging your wedding instead.
Do you have a photographer friend? They may be willing to take care of the photos for you. And if they can't afford to offer it for free, they'll be able to give you a huge discount.
Do you have friends who can sing? Or perhaps, tap one of your friends to be your emcee, wedding coordinator, or be your makeup artist on your special day.
You can also ask your friends for recommendations.
Just remember that you're asking for help so don't oblige your friends to offer their help or services for free.
Compare prices
Quality often comes with a price but if you're patient and resource enough to look around, you can find suppliers who offer good quality services at affordable prices.
Enjoy having choices. Take advantage of discounts and promos. Wedding expos can be of help but choosing suppliers from there can be more expensive. If possible, look for low profile and new suppliers. New people in this business are more affordable because they are more concerned with building their portfolios.
As for the reception area, do you know that price is cheaper during weekdays?
Rent or buy a ready-to-wear wedding dress
Sometimes brides regret buying an expensive wedding dress because they can only wear it once.
Why not rent or buy a ready-to-wear wedding dress? This is more affordable and practical than having customized or couture ones. You can also borrow a coat and tuxedo from friends.
For the bridesmaids, just ask them to wear any dress they already own as long as it matches your wedding theme.
Do It Yourself
Make your own invitation. Printed invitations are becoming out of trend now. So opt for E- invitations. There are lots of applications available on the internet where you can do a template for free. Invite people through their social media accounts.
As for your music, you can be your own wedding DJ! Use your own sound system and speakers at home, if you have one. Or rent if you don't. Compile lists of your favorite songs or use Spotify and you're done!
As for the food, get creative! You can do pot-luck style, or go for a simple menu.
Lastly, do your own bouquet. Wedding bouquets are more expensive because they are wedding bouquets. You can buy a beautiful bundle of flower and use it as your bouquet.
Skip the extras
Simple is beautiful.
Do you really need to ride a limousine? Why not use your car or your friend's car.
Also, skip the same-day-edit for your wedding video. Also, mobile phones today are so advanced that we can take good-looking photos from them. But if you really want to hire a professional, choose someone that can offer you the best value for your money. Again, skip the extras. If you have a small guest list, you don't need three cameramen.
Flowers and decorations don't need to be extravagant. Paper flowers can be as beautiful, too without costing too much.
As for souvenirs, guests don't really expect that much. Choose something that is practical that your guests can use. Also, skip the thank you cards and go for social media graphics that you can send to your guests.
Weddings need not be expensive. What's important is the commitment that you will love each other for the rest of your lives. Prepare for the marriage, not just the wedding. It is the life after the wedding day that matters anyway.
Track All Your Accounts With Personal Capital
Personal Capital
lets you see all of your accounts in one convenient place.  
Sign up now
for free.
The following two tabs change content below.
Joy
Joy Collado is a freelance writer and loves to write about personal finance, self-help, and digital marketing.