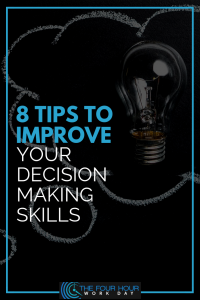 Every day we make hundreds of decisions.
From figuring out what to wear, or eat, to more complex ones like business or relationship decisions.
A typical day involves lots of decision making at home and at work. Sometimes, we become indecisive given the different options available and just let others decide for us.
As for entrepreneurs, the challenge is bigger because not everything decisions can be delegated. And as an entrepreneur, you're the leader of your business so you can't afford to make poor decisions because the whole organization will be at risk.
Good thing decision-making skills can be improved. The more experience you gain with making decisions, the more comfortable and confident you become.
How do you improve decision-making skills?
Here are some tips.
1.Know your goals
What is the decision for?
How big is the impact of making that decision?
How will this affect your desired outcome?
Is it making you disconnected from your goals?
If you are focused on what you want to achieve there will be fewer distractions and your efforts and mindset will always be aligned towards achieving that goal. Check out this book for more guidance on how to reset your mindset when it comes to goal setting: The One Thing.
2. Analyze data
In making decisions, data will always be your best friend.
Make sure you gather the right information. Is it from a reliable source? Is it diverse? Is it accurate?
Keep asking questions. Check for patterns. Verify historical data and understand the behavior.
Do your own research.
Make objective decisions. Any subjective decision could put you at greater risk. Some say just trust your instincts. Though it may be as effective sometimes, it is always best to have data that would support all your actions.
3. Evaluate options
You can't get stuck with only one option. There should always be a Plan B and Plan C, at the least.  
Be cautious about your plans, as it can be more difficult if you are presented with too many alternatives.
The more options you have, the more it will confuse you. Especially if you have limited resources and a timeline to keep.
Trim it down. Set a priority and rank them with selected criteria.
4. Weigh the pros and cons
Now, are you're left with two options? Now, what should you do?
You should now assess the pros and cons of each option.
Are there financial implications for each?
Uncover the risks and take note of the consequences.
Which is more achievable and plausible as of the moment?  Check possible obstacles and how can they be managed.
5. Control your emotions
Don't let emotions cloud your judgment.
Are you pressured being given that big responsibility? Most would chicken out and decide hastily, but this should not be the case. Instead, the more you should be thinking about it rationally and logically.
Don't make decisions when you are anxious and stressed. It is not wrong to step back for a while when emotions are high. Give yourself some time to relax, think and make a careful assessment of things.
Also, don't dwell on past mistakes. You can't be perfect. Don't let failures make you doubt your abilities. Experiences, especially the bad ones, should not hold us back. Instead, learn from those mistakes and make sure never to repeat it.
6. Plan for the worst
When things don't go as expected, make sure you have a contingency plan.
Even if we are 99% aware of the risks, there is always that 1% possibility that our decision might fail. Anticipate errors rather than being taken by surprise.
Decision making can be less stressful if you are prepared for possible issues.
7. Encourage collaboration
Two heads are better than one. Work with a team. They might know something else that you never heard of. They might contribute fresh ideas or suggest a better solution to a particular problem.
Don't own the problem. Talking with people with first-hand information can help you understand the situation more. Gather new insights and perspectives. Decision making can be easier and even more fun when done together as a group.
8. Ask an expert
Are you still in doubt of your decision? Ask for an expert's advice.
Take advantage of the wisdom of people who have gone through the same problem as yours.
Talk with them your issues and opinions. Ask questions and advice. Talking with someone with enough experience will give you reassurance that you are making the right decision.
Decision making will always be part of our lives, whether personally or professionally. This should not be hard to do as you get used to doing it right. Take time to improve your decision-making skills to the next level.
Track All Your Accounts With Personal Capital
Personal Capital
lets you see all of your accounts in one convenient place.  
Sign up now
for free.
The following two tabs change content below.
Joy
Joy Collado is a freelance writer and loves to write about personal finance, self-help, and digital marketing.