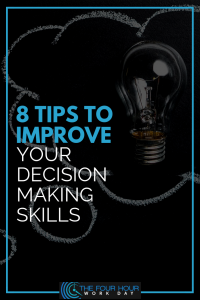 Every day we make hundreds of decisions.
From figuring out what to wear, or eat, to more complex ones like business or relationship decisions.
A typical day involves lots of decision making at home and at work. Sometimes, we become indecisive given the different options available and just let others decide for us.
As for entrepreneurs, the challenge is bigger because not everything decisions can be delegated. And as an entrepreneur, you're the leader of your business so you can't afford to make poor decisions because the whole organization will be at risk.
Good thing decision-making skills can be improved. The more experience you gain with making decisions, the more comfortable and confident you become.
How do you improve decision-making skills?
Here are some tips. [Read more…]