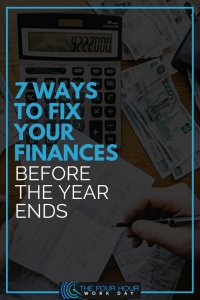 Time flies – 2019 is just around the corner!
Do you still remember your new year's financial resolution?
How did it fare?
Are your financial goals closer to reality?
Or do you think you failed?
It is never too late. It's time to perform a financial review.
What went right and what went wrong? What are the strong points to retain and what to work on?
Your finances can still be fixed if you are still willing to start all over again.
How to make it right before the year ends?
Be reminded of your goals
Now ask yourself, do you really want this?
Our purpose should be strong enough for us to keep motivated.
Remember your whys. What do you want to achieve?
Get the proper mindset.
Bring back the momentum and excitement you had before. Do you want to commit the same mistakes again?
Review your budget
Go back to the basics. Reassess your income and expenses. What you have right now might not be working for you. It's time to make adjustments.
Check your past month's bills and receipts. What have you spent? Which are fixed and variable? Are they all necessary?
Your budget should be realistic.
Determine what you can cut down. If you are still falling short, you might need to look for additional income.
Creating a budget is by trial and error until you find the best one.
Reflect on your financial habits
Start by decluttering. Look at your closet. How many new items have you bought this year and which of these do you actually use?
Admit that you may have overspent on unnecessary things at some point.
Were you able to save? Why not try to automate your bank transactions? A portion of your payroll would be set aside to savings first then the rest would add to your budget. You'll build up your savings without noticing it.
Can't live without credit cards? Use cash instead to get you in control of wasteful spending.
Do you eat a lot outside?
Are you always present during mall sales?
Guilty of impulse buying?
Have an inventory of your things and you'll be surprised at how huge the amount of money you actually have spent.
Be honest and start changing your lifestyle to a simpler one.
Know your net worth
Asset – Liabilities = Net Worth
It is important to check your net worth so you would know your starting point.
Which among your assets are bearing fruits?
Your mutual funds and stocks seem not to be earning? Maybe you have to put on a new strategy. Should I let go an investment or not?
Your debts seem endless despite paying regularly? Maybe you have to change your methods. Should you pay smaller debts first or those loans with higher interest rates?
It is also best to check and update all your insurance policies.
Reviewing your net worth helps you make a sound financial decision.
Is your net worth negative? This can be daunting but this will push you more to fix your current financial standing.
Make it a habit to review your net worth at least quarterly so you can make necessary arrangements if needed.
Ask for financial advice
Look for financial experts. If researching and reading resource materials seem not enough, ask for expert advice. Their actual experiences aside from their knowledge are a big help.
You can turn to your friends and families too. Who knows? They could've been in the same situation as yours before.
Attend seminars or webinars. Join social media groups. Lots of new and interesting things can be learned from them.
Go digital
Financial tools are all over the internet now.
Do you know that you can download applications where you can plan and organize your finances?
A digital tracker of your spending is available too. Who would think that an app can actually save you from buying on impulse and overdrawing your account?
Reset goals
What could have been the problem? Are your goals too ambitious?
Try to set achievable goals so you feel less pressured.
It is alright to start small. Every great thing started with small steps. What matters is the attitude you develop along the way such as self-discipline and learning from your losses.
Even though the new year is still a month away, you shouldn't make it a reason to stall your preparation on working towards your new set of goals. Restart now and let us end this year right!
Track All Your Accounts With Personal Capital
Personal Capital
lets you see all of your accounts in one convenient place.  
Sign up now
for free.
The following two tabs change content below.
Joy
Joy Collado is a freelance writer and loves to write about personal finance, self-help, and digital marketing.