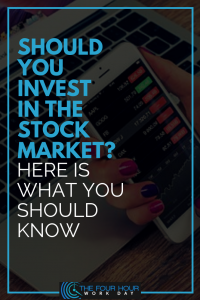 Have you always wanted to learn about stocks but always feel intimidated?
One common misconception about investing is that stocks are for rich people only. But that's not the case. In fact, anyone can enter the world of the stock market as long as you are up for its risks and challenges.
So, should you invest in the stock market? What do you need to know? What are its advantages and disadvantages?
The Advantages
High Returns
You stand a good chance to earn a profit when you invest in stocks. When you put your money on reputable company stock, you become a part-owner of that company no matter how small your shares are. The stock market takes advantage of a country's growing economy. Economic growth drives more revenues to corporations. The success of the company you invested in becomes your success too.
There are multiple ways to earn. You can be a day trader or a long-term investor. Day traders do multiple transactions of buying and selling in a day and can make money in minutes. They take advantage of short-term trends. This is riskier though because you have to monitor every movement of a single stock and be mindful of the current events influencing the market. Long-term investors buy stocks with the intention of holding it believing that its value will continue to rise and increase over a period of time.
Investors also enjoy regular income from dividends. A dividend is a portion of a company's earnings that are distributed to its shareholders. This is a good source of passive income.
Easy to Buy and Easy to Sell
Who said it is hard to co-own a prestigious corporation? The stock market makes it easy to buy shares of companies. You don't necessarily need to be rich, you can buy shares at your own pace, time, and budget. The stock market makes it easy to sell your shares too. Stocks are highly liquid giving you the flexibility to pull out your money when a need arises.
Time Value of Money
No time to monitor your investments regularly? While it is important to visit your financial portfolio once in a while, stocks are expected to rise in value as you let it grow over a period of time. The more time you give your money to work for you, the more your moneymaker for you. Stocks are best if held long term and could be a perfect source of your retirement fund.
The Disadvantages
High Risks
The basic investment principle still holds true: the higher the risk, the higher the returns. The stock market can be volatile or unpredictable. It goes up and it goes down in just a matter of seconds. The price is easily influenced by recent economic events or by any positive or negative news. Stock investment is like a roller coaster ride. Sometimes you are at the top where you win, sometimes you are below where you lose.
You could lose your entire money too when the company you invested in goes bankrupt. Stockholders are paid last if the company goes broke.
Competition
You get to compete with professional traders. They know much more about how the stock market behaves and sometimes these institutional professional traders, with the large amount of fund they have, have the ability to lead the market to certain directions which are unjust.  
Since you are new to the stock market industry, you have the responsibility to research and study how it works. You don't have to pressure yourself to learn everything, all you have to do is understand the risks and develop a good investing strategy.
Fees
As part of using your broker's platform, you have to pay them a commission when you profit and at the same time pay them transaction fees every time you buy and sell stocks either at a gain or a loss. You have to plan your trade to minimize these transaction fees.
Given the disadvantages, do not be discouraged to invest in the stock market.  There are known effective methods to lessen the risks.
You have to manage your emotion. Do not panic and decide impulsively.
Investing in the stock market takes patience and discipline.
Have a strategy in place, without one success is going to be elusive.
Lastly, keep on learning. You are investing your hard-earned money so protect it.
Track All Your Accounts With Personal Capital
Personal Capital
lets you see all of your accounts in one convenient place.  
Sign up now
for free.
The following two tabs change content below.
Joy
Joy Collado is a freelance writer and loves to write about personal finance, self-help, and digital marketing.